GRAPHTEC Cutting Plotter CE6000-40
Vinyl Cutter
The Graphtec CE6000-40 Vinyl Cutter is a very interesting and amazing machine that is available here at the AIC Makerspace. With this machine, you are able to express your ideas in vinyl form, as you are able to create your own designs to be printed. The Graphtec Vinyl Cutter can make your dreams a reality!
Photo Gallery of the Vinyl Cutter!
A few of things the vinyl cutter can do are listed below:
Photo By Chris Connors
Labels! In a classroom or even your own home, vinyl stickers can be used as signage an labels. The signage in a classroom can indicate where things are located and exit signs etc.
Decorate projects and walls with a vinyl cutter. The design that comes out in the vinyl sticker paper is in the control of the user, which allows for endless possibilities.
T-shirts- A commonly used method of transferring your design onto a t-shirt is called silkscreening. This is simply the transfer of an image onto a t-shirt through areas blocked off in the vinyl. A tutorial on silkscreening with vinyl by maker Chris Connors is listed here: https://makezine.com/projects/make-36-boards/vinyl-silk-screen-printing
What we have already used the vinyl cutter for in the MakerSpace: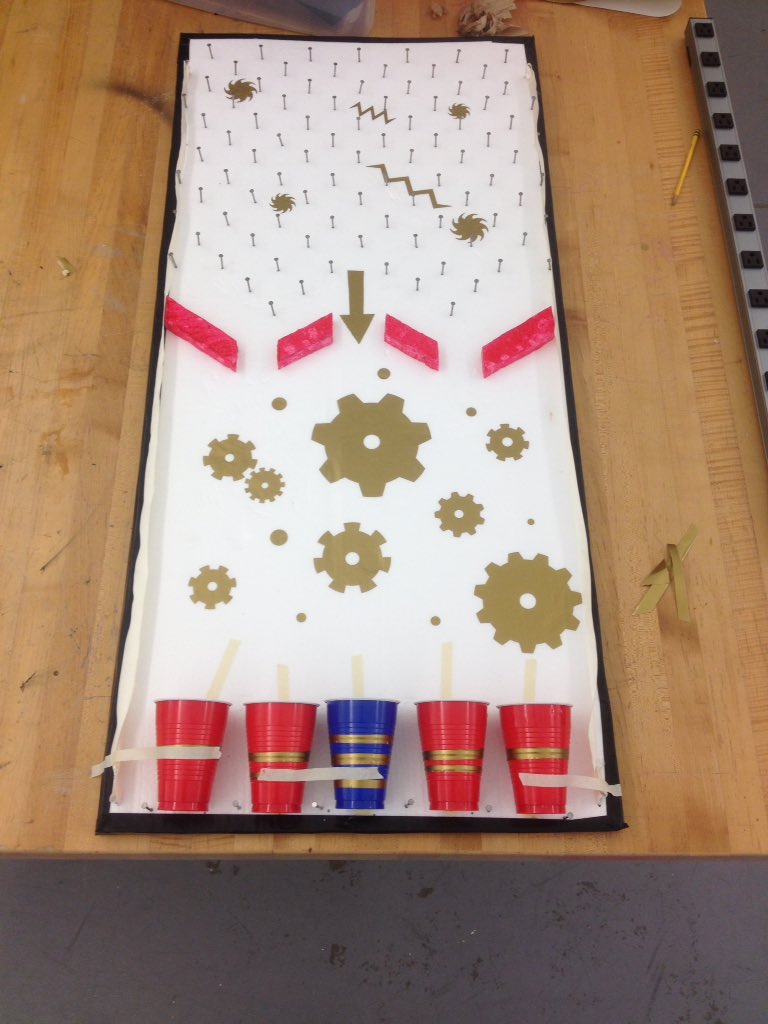 The Almost finished Plinko Board
Photo by Chad McGowan
For Ashland Day, a few mentors (including me) got together to create a game for the kids to play while outside. We came up with the idea of a Plinko board; a game that is based on the luck of a ping-pong ball going through a series of obstacles made of nails to get a prize. To decorate it, we put vinyl stickers on the Plinko board, and it made the game look 100x better. For the sign, we printed out vinyl letters to paste on some cardboard, which looked very neat and complete because of the vinyl.
The Graphtec Vinyl Cutter here at the AIC Makerspace is one of our most prized possessions. As shown, it has proved to be a very useful machine for the mentors and will continue to prove so, as we start new projects with the Vinyl Cutter. Not only this, but the students that come by to the afterschool Makerspace programs will also be able to use this amazing machine, while the mentors get to watch their ideas come to life.